Europe's Leading Breeze Up Sale
April 15 - 17, 2019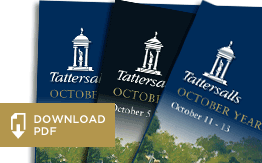 Don't have Acrobat Reader?
Download it FREE from here.
Scat Daddy Colts Dominate Tattersalls Craven Breeze Up Sale
The Tattersalls Craven Breeze Up Sale finished with a flourish on the second day with a SCAT DADDY colt selling for 900,000 guineas and three further lots realising 500,000 guineas or more. The sale saw a total of 94 lots realise 13,313,500 guineas, down 6% on last year's record turnover whilst the average and median came in at 141,633 guineas and 75,000 guineas respectively. 
The final crop of the ill-fated SCAT DADDY were always going to be in great demand given the feats of his progeny on the racecourse in recent years and so it was no surprise that the top three places on the list of top prices were occupied by sons of his. 
Leading the way was lot 163, the colt out of the RAHY mare MADERA DANCER who was knocked down to agent Stephen Hillen for 900,000 guineas after he saw off Godolphin's John Gosden. 
"He is for a client who wishes to stay anonymous," said Hillen, "but the colt will be staying in the UK. I saw this horse at Mayfield Stables twice this winter - the first time I thought he was a bit small, but he developed and developed and when I saw him the second time, I loved him. 
"He will be a two-year-old and should not be too long to get to a racecourse. Scat Daddy is a great sire and Mayfield does a great job producing its horses."
Mayfield Stables is run by Ronaldo de Souza and Tanya Browne, daughter of Mocklershill's Willie Browne. The colt was bought as a yearling for $200,000 by Hunter Valley Farm.

Tattersalls Craven Breeze Up Sale Day 2 Comparative Figures:

| Year | Catalogued | Offered | Sold | Aggregate | Average | Median |
| --- | --- | --- | --- | --- | --- | --- |
| 2018 | 86 | 76 | 56 | 8,091,000 | 144,482 | 77,500 |
| 2017 | 76 | 58 | 49 | 7,165,000 | 146,224 | 100,000 |
Tattersalls Craven Breeze Up Sale Comparative Figures:

| Year | Catalogued | Offered | Sold | Aggregate | Average | Median |
| --- | --- | --- | --- | --- | --- | --- |
| 2018 | 172 | 142 | 94 | 13,313,500 | 141,633 | 75,000 |
| 2017 | 152 | 124 | 98 | 14,120,000 | 144,082 | 110,000 |
The second highest price on the second day was lot 155, the SCAT DADDY colt out of the MEDAGLIA D'ORO mare LAUDED who realised 775,000 guineas to the bid of Jamie McCalmont at the expense of underbidder Ross Doyle. The sale provided consignor Willie Browne with another headline horse following last night's session topper and he was naturally delighted following the sale. 
"As a yearling he did not sell in the ring and we bought him for $220,000 privately," recalled Browne. "He is a lovely horse and they are not making them by Scat Daddy any more."
Jamie McCalmont, who was buying on behalf of MV Magnier, said: "The late Scat Daddy was a stallion that was just getting better and better. He can produce anything and he has two of the world's best three-year-olds this year."
In what was a frantic final hour, SackvilleDonald's Alastair Donald secured lot 158, the STREET SENSE colt out of the TIZNOW mare LIGHT AND VARIABLE for 575,000 guineas after seeing off the Phoenix Thoroughbreds team of Dermot Farrington and Tom Ludt. 
"This colt is for Hong Kong," said Donald. "He is a scopey horse, he breezed well and has a great temperament. He will suit Hong Kong and I thought he was the nicest colt here."
The sale was a great result for Gaybrook Lodge Stud's Jim McCartan who consigned the February-born bay colt who had been unsold in the US for $70,000 last autumn.
Donald ended the sale as the leading buyer, having purchased 4 lots for 1,595,000 guineas. 
Lot 159, the only colt by SEA THE STARS was the next highest price for the day when purchased by Godolphin for 425,000 guineas. Out of the Group winner and Group 1 placed DARK ANGEL racemare LILY'S ANGEL, the colt was consigned to the sale by Powerstown Stud.
At the conclusion of the 2018 Tattersalls Craven Breeze Up Sale, Tattersalls Chairman Edmond Mahony commented;
"The huge rises across the board at the 2017 Tattersalls Craven Breeze Up Sale were always likely to be hard to match and although falling short of last year's wide margin record levels, the turnover is the second highest in the sale's 30 year history, the average is also second only to last year and the sale finished strongly.
"The top of the market continues to be robust with more lots fetching in excess of 400,000 guineas than ever before and new buyers from America, Hong Kong and the Gulf region all active at the upper level of the market. It would, however, be wrong to pretend that everything has been plain sailing. To date, this year's breeze up market has been selective and while we have witnessed a number of spectacular pinhooking successes, this has again been evident over the past two days. The consignors have as ever brought an outstanding collection of two year olds to the Craven Breeze Up Sale, and the very best have fetched premium prices, most notably the three outstanding SCAT DADDY colts who made 900,000 guineas, 800,000 guineas and 775,000 guineas respectively, but we would have liked to have seen a better clearance rate."
The next sale at Tattersalls is the Guineas Breeze Up & HIT Sale that takes place from May 3rd– 4th.  
Latest Press Releases
Sale Videos
Sale highlights