Europe's Leading Breeze Up Sale
April 17 - 19, 2017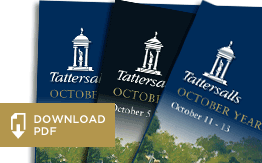 Don't have Acrobat Reader?
Download it FREE from here.
Records Tumble At Tattersalls Craven Breeze Up Sale
Strong trade continued on the second day of the Tattersalls Craven Breeze Up Sale with records set across the board and a top price of 675,000 guineas for a colt by SCAT DADDY. The second session saw 49 lots sell for 7,165,000 guineas at an average of 146,224 guineas and a median of 100,000 guineas taking the two day totals to 98 lots sold for 14,120,000 guineas, a new record, bettering the previous record set in 2008 by more than 2 million guineas. The average and median both rose 30% and 42% to 144,082 guineas and 110,000 guineas, both new records as well. The sale saw a total of 57 lots sell for 100,000 guineas or more, eclipsing the previous record of 40 et in 2008.
The top lot on the final day and the top price for the sale was the SCAT DADDY colt from Jim McCarten's Gaybrook Lodge Stud who was knocked down to David Redvers for 675,000 guineas. Bidding for the colt was frenzied from the start with Cheveley Park Stud's Chris Richardson, agents Nicolas de Watrigant, Stephen Hillen, Justin Casse and Kerri Radcliffe all trying to secure the prized lot alongside Ibrahim Araci and underbidder Richard Knight, but none could match the efforts of Redvers, who was stood alongside Sheikh Fahad. Remarkably it is the second son of the mare GENDER DANCE to top a Craven Breeze Up Sale, after her ELUSIVE QUALITY colt, subsequently named GREAT WHITE EAGLE and a Group 3 winner, sold for 760,000 guineas in 2013.
Following the purchase, Redvers commented;
"When people buy the sale topper, they always come out with the cliches that they thought it was the best horse in the sale, and that it ticked all the boxes.
"This horse had some minor issues as a yearling [he was not sold for $65,000] but he has proved that he can gallop. He has a great mind and this sale has been tremendously successful for us.
"We are delighted to have bought him, and in fact are quite surprised to have managed to get him. He is exactly the sort of horse we are looking for. He will be trained in Newmarket."
Craven Breeze Up Sale Day 2 Comparative Figures:

| Year | Catalogued | Offered | Sold | Aggregate | Average | Median |
| --- | --- | --- | --- | --- | --- | --- |
| 2017 | 76 | 58 | 49 | 7,165,000 | 146,224 | 100,000 |
| 2016 | 70 | 56 | 41 | 5,094,000 | 124,244 | 100,000 |
Craven Breeze Up Sale Full Sale Comparative Figures:

| Year | Catalogued | Offered | Sold | Aggregate | Average | Median |
| --- | --- | --- | --- | --- | --- | --- |
| 2017 | 152 | 124 | 98 | 14,120,000 | 144,082 | 110,000 |
| 2016 | 140 | 107 | 78 | 8,641,500 | 110,788 | 77,500 |
The second top price for the day was 400,000 guineas for the SIYOUNI colt out of the SHIROCCO mare ACENTELA consigned from Church Farm & Horse Park Stud. The sale was a massive pinhooking triumph after being purchased for 62,000 euros as a yearling and will go into training with Kevin Ryan.
"We loved him when we saw him, he is a lovely big sort," said John Cullinan of Horse Park Stud. "We are a big fan of the sire and have had some luck with him - they are obviously getting more difficult to get hold of now! Alban Chevalier du Fau of The Channel Consignment highly recommended this horse.
"He did a great breeze this week and is a gorgeous sound horse. He started with me and then went to Roger [Marley's] in January - and survived both of us!"
Hillen was delighted with his purchase.
"It is more than we thought we'd have to pay, but the market is savage and if you want horses you have to get involved," he reported.
"I saw him at Roger's a month ago and was impressed then. We've had some luck with horses we have bought from them - we bought Brando from them and he runs in the Group 3 Abernant Stakes tomorrow.
"All the rumours ahead of this sale were correct and it has proved to be strong with lots of new people involved. I enjoy buying at the breeze up sales - the horses are well produced by the consignors and the stats are superb. Compared to buying yearlings it is so helpful to see how the horses gallop.
"I like to think that the background I have as an assistant trainer is useful - I loved the way this horse galloped even though his time was not one of the very top few."
Bloodstock agent Kerri Radcliffe has been very active throughout the two day sale and purchased the first of three lots when she went to 350,000 guineas to secure the YOUMZAIN colt out of the ANABAA mare ATARFE. Consigned by Tony and Roger O'Callaghan's Tally Ho Stud, the colt represented another stunning pinhooking triumph, having been purchased as a foal for 62,000 euros.
"He's for Luxembourg-based Phoenix Thoroughbreds and will be trained by Jeremy Noseda," she Radcliffe, before adding of her husband: "I think there will be divorce in the camp if this horse did not go to Jeremy!
" This horse is a lovely well-balanced horse, a cracking two-year-old and hopefully one for the Chesham!"
At the conclusion of the 2017 Tattersalls Craven Breeze Up Sale, Tattersalls Chairman Edmond Mahony commented;
"This has been a very good Craven Breeze Up Sale and as well as sincere thanks to all the buyers who have made the sale such a success, we really must pay tribute to the consignors. Yet again they have brought an outstanding collection of two year olds to Europe's premier breeze up sale, the breeze on Monday was supremely professional and the buyers have consistently commented on the quality of the individuals throughout the two days. Those comments have been reflected in record figures across the board and to see the average and median increase by such wide margins is a clear indication of the extraordinary strength of demand at the top of the market and the equally extraordinary growth in this sector of the European bloodstock market. At the turn of the century the average price at the Craven Breeze Up Sale was less than 25,000 guineas and the median was 20,000 guineas. In 2017 the average has exceeded 140,000 guineas and the median has broken the 100,000 guineas mark for the first time.
"In addition to new records for average and median, there have been an unprecedented number of six figure transactions and some spectacular pinhooking triumphs which demonstrate not only the professionalism of the consignors, but also the diversity of international buyers. Owners, trainers and agents from all over the world target the Craven Breeze Up Sale because it consistently produces top class racehorses and the combination of regular buyers competing with new faces has produced a sale of sustained strength from start to finish. The global demand this week is not only a source of encouragement for the forthcoming Tattersalls Guineas Breeze Up and Horses in Training Sale, but also for the rest of the year."
The next sale at Tattersalls is the Guineas Breeze Up and Horses in Training Sale which takes place May 4 – 5.
Latest Press Releases

Sale Videos
Sale highlights