Europe's Leading Foal Sale
November 28 - December 1, 2018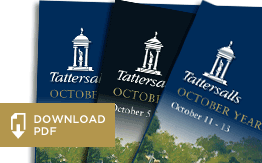 Don't have Acrobat Reader?
Download it FREE from here.
Records Across the Board At Tattersalls December Foal Sale
A colt and a filly by SHOWCASING were the stars acts on the final day of the Tattersalls December Foal Sale, selling for 120,000 guineas apiece as three lots sold for 100,000 guineas or more. Turnover on the final day topped 3 million guineas taking the four-day total to just shy of 35 million guineas, a record for this fixture. The average for the sale was a record 51,285 guineas whilst the median was a record equalling 25,000 guineas.  
Camas Park Buy Showcasing Filly for 120,000 Guineas
The first of the SHOWCASING foals to realise 120,000 guineas was the filly out of the FASLIYEV mare PARK LAW who was knocked down to Timmy Hyde Jnr from Camas Park Stud.
Hyde commented;  
"She is a gorgeous filly, she stood out in the ring. The sire's had a great year, she has been bought to resell."
The filly was consigned by Jamie Railton on behalf of breeders Rod Haim and Jared Bernstein. 
"She has great presence and rhythm and is a lovely filly," said Railton. 
The filly is a full-sister to PAVILLION, a winner at two and three whilst her third dam is MADAM DUBOIS, the dam of the Group 1 Irish 2000 Guineas winner INDIAN HAVEN.

December Foal Sale Day 4 Comparative Figures:

| Year | Catalogued | Offered | Sold | Aggregate | Average | Median |
| --- | --- | --- | --- | --- | --- | --- |
| 2018 | 281 | 235 | 144 | 3,031,407 | 21,051 | 15,000 |
| 2017 | 276 | 235 | 167 | 3,534,200 | 21,163 | 15,000 |
December Foal Sale Full Sale Comparative Figures:

| Year | Catalogued | Offered | Sold | Aggregate | Average | Median |
| --- | --- | --- | --- | --- | --- | --- |
| 2018 | 1,175 | 969 | 681 | 34,924,757 | 51,285 | 25,00051 |
| 2017 | 1,147 | 957 | 742 | 32,668,200 | 44,027 | 25,000 |
Mark Johnston Sells Showcasing Filly for 120,000 Guineas
The Yeomanstown Stud team secured the SHOWCASING colt out of the TAGULA mare DUCHESS DORA for 120,000 guineas from Mark Johnston's Friar Ings Stud. 
The Middleham-based trainer, who has sent out more than 200 winners again this year, purchased DUCHESS DORA at last year's Tattersalls December Mare Sale for 40,000 guineas. 
"I have a few nominations to horses I trained and I bought this mare last year to go to The Last Lion with the Showcasing foal in the belly and that's what we've been doing for a few years," commented Johnston. 
His stud manager Sam McCullogh said; 
"She was a quick racehorse and finished second in the Listed Beverley Bullet – with Showcasing there too, it means there is lots of speed on this page." 
"Duchess Dora is in-foal to The Last Lion."
No Nay Never Colt to Tally-Ho for 110,000 Guineas
The progeny of NO NAY NEVER have been in great demand at the sales this Autumn following the exploits of his first crop of runners this year, headlined by the Group 1 Middle Park Stakes winner TEN SOVEREIGNS.
He has had six lots offered at the December Foal Sale this week, with three realising 100,000 guineas or more including the colt out of the SINGSPIEL mare MUSICALLY who was sold to Tally-Ho Stud for 110,000 guineas.  
"He was bred by myself, Jim Carey and Philip Blake," said the County Tipperary-based consignor Peter Collier. "We have been lucky to hit on the right sire, and the mare is now in-foal to El Kabeir to back up the Scat Daddy."
The team purchased MUSICALLY at the 2013 Tattersalls December Mare Sale for 19,000 guineas and she is catalogued at next week's sale as lot 2003.
Chairman's Statement
At the conclusion of the 2018 Tattersalls December Foal Sale, Tattersalls Chairman Edmond Mahony commented;
"The world's highest priced filly foal in 2018, new record December Foal turnover of nearly 35 million guineas, as well as an unprecedented number of foals selling for 500,000 guineas or more and also for 100,000 guineas or more are all heartening statistics to be able to take from this week's Tattersalls December Foal Sale. Above all, the December Foal Sale has confirmed that the demand for quality stock remains robust and we must thank the consignors who have presented some truly outstanding foals this week for their confidence in Europe's premier foal sale. All week the buyers have commented on the quality of the foals on offer here at Park Paddocks and despite uncertainties in the market place, the cream of the British and Irish foal crop has been met with enthusiasm by pinhookers and end users alike.
"As ever, the pinhookers have worked tirelessly all week and we look forward to seeing a large number of this week's purchases returning to Tattersalls as yearlings next October. The sale has also been targeted by a large number of the world's leading owners with international buyers from Australia, Dubai, France, Japan, Kuwait, Qatar, Saudi Arabia, Spain and the USA all making significant contributions to a sale which has produced the 16 highest priced foals sold in Britain and Ireland this year.
"While we can reflect on the positive aspects of this week's December Foal Sale and also the record breaking Tattersalls October Yearling Sale, we should not overlook the challenges that currently exist in certain sectors of the bloodstock market. The overall clearance rate this week has fallen and it is abundantly clear that the current imbalance between supply and demand at the lower end of the market is an issue for all concerned.  Nevertheless, we now turn our attention to the Tattersalls December Mares Sale which every year showcases the finest breeding stock to be found in Europe. The December Mares Sale is always an unmissable event for thoroughbred breeders from throughout the world and we look forward to another truly international renewal."
The Tattersalls December Mare Sale starts at 9.30am on Monday, December 3rd.
Earlier Press Releases
Sale highlights
Sale Videos