Europe's Leading Foal Sale
November 29 - December 2, 2017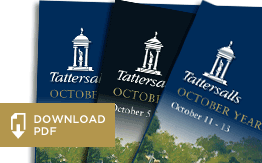 Don't have Acrobat Reader?
Download it FREE from here.
Tattersalls December Foal Sale Sustains Momentum
There were a further two lots that sold for 100,000 guineas or more on the final day of the Tattersalls December Foal Sale, bringing a close to the four-day sale. The final session saw 160 lots sell for 3,257,000 guineas taking the four-day total to 743 lots sold for 30,568,350 guineas. The average and median finished on a comparable level to last year at 41,142 guineas and 21,000 guineas respectively, whilst the clearance rate rose four points to 78%.
The top lot on the final day was the colt by SHOWCASING out of the SHAMARDAL mare SUNRISE STAR who realised 110,000 guineas to the bid of bloodstock agent Richard Knight.
Knight said:
"He has been bought for a British-based client as a pinhook. He is by a sire who goes from strength to strength, is independent and is going up in price. He is out of an 85-rated mare who won over 6f. He has plenty of size for a first foal - there's lots to like, let's hope buyers think so next year!"
Charlie Wyatt whose Dukes Stud consigned the colt commented:
"The Showcasing is a cracking colt and was bred by Lady Bamford. He has been a straight-forward, easy to do colt all the way through. He has been brilliantly done by Clive Larkin and Jim Robertston at home."
Dukes Stud and Wyatt scored another success two lots later when their IFFRAAJ filly out of PINK FLAMES sold for 95,000 guineas to Marc-Antoine Breghgracht's MAB Agency.
Wyatt commented; "The Iffraaj filly was bred in partnership between myself and Simon Sweeting. She is lovely. We will probably be sending the mare back to Dutch Art - he is sire of her Listed winner, Flanders Flame."
December Foal Sale Day 4 Comparative Figures:

| Year | Catalogued | Offered | Sold | Aggregate | Average | Median |
| --- | --- | --- | --- | --- | --- | --- |
| 2016 | 267 | 221 | 160 | 3,257,000 | 20,356 | 13,000 |
| 2015 | 224 | 184 | 132 | 3,653,900 | 27,681 | 19,500 |
December Foal Full Sale Comparative Figures:

| Year | Catalogued | Offered | Sold | Aggregate | Average | Median |
| --- | --- | --- | --- | --- | --- | --- |
| 2016 | 1,136 | 957 | 743 | 30,568,350 | 41,142 | 21,000 |
| 2015 | 1,277 | 1,089 | 803 | 33,565,600 | 41,800 | 20,000 |
The other lot to reach the six-figure mark on the final day was the KODIAC filly out of the PIVOTAL mare CARVED EMERALD. Consigned by Jamie Railton, the filly was knocked down to Paul McCartan for 100,000 guineas after he saw off the likes of David Redvers and the O'Callaghan family. The filly hails from the immediate family of Group 2 Flying Childers second EMERALD PEACE and her daughter, the Group 3 Princess Margaret Stakes runner-up VITAL STATISTICS.
At the conclusion of the 2016 Tattersalls December Foal Sale, Tattersalls Chairman Edmond Mahony commented;
"The strength and depth to the market at Books 1 to 4 of the Tattersalls October Yearling Sale has been reflected in the sustained demand we have witnessed from start to finish of the 2016 December Foal Sale. Another major contributory factor has been the decision to return the sale to its traditional four day format after the five day December Foal Sale last year. This was not a decision taken lightly, but it has without doubt played a major part in the success of this week's sale.
"On each of the four days we have achieved improved clearance rates over the equivalent days last year, we have had an impressive 76 foals selling for 100,000 guineas or more, only one short of the record, an improved median and turnover in excess of 30 million guineas for the fourth consecutive year. Another noteworthy achievement involves the 600,000 guineas sale topping DANSILI filly out of HIGH HEELED who was consigned from the Wigan family's West Blagdon Stud. Not only has West Blagdon been one of the most loyal and prominent consignors at the Tattersalls December Foal Sale for very many years, but they have also been responsible for the sale topping foal in three of the last four years, and each time it has been a filly out of the outstanding producer HIGH HEELED. In 2014 West Blagdon had the second highest priced foal at the sale, but the highest priced filly, and again she was out of HIGH HEELED - truly an achievement of real merit.
"In addition to the extraordinary West Blagdon success story we have seen so many British and Irish foal consignors richly rewarded this week. They have brought the cream of the British and Irish foal crop to the December Sale and the buyers, both pinhookers and many of the world's leading owners, have responded. International buyers from as far afield as Australia, Japan and the USA have all made an impact, but as ever we must pay tribute to the huge number of pinhookers who form the backbone of this unique market and who will be bringing so many of this week's purchases back to our October Yearling Sale in 2017.
"In the meantime we now turn our attention to next week's December Breeding Stock Sale which starts on Monday. As ever, we have a catalogue of real quality and we look forward to ending our 250th anniversary year on a positive note."
The Tattersalls December Mare Sale commences on Monday, November 28 at 9.30am.
Earlier Press Releases
Sale highlights
Sale Videos