Guide to Sales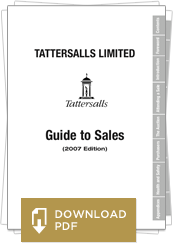 Don't have Acrobat Reader?
Download it FREE from here.
This is the fourth edition of Tattersalls Guide to Sales. We at Tattersalls have a firm belief in the merits of buying at public auction and are committed to our vendors and purchasers both at Newmarket and Fairyhouse. To this end Tattersalls were party to the Jockey Club's Committee to produce a Bloodstock Industry Code of Practice and this appears as Appendix 3 at the back of this Guide.
This booklet cannot be a comprehensive or foolproof guide to doing business at Park Paddocks but we hope that the information included in it will make your visit to the sales both more understandable and enjoyable. It is especially designed for those clients intending to buy for the first time and to this end we include in the Guide an explanation of certain areas of the sales which may at first appear somewhat confusing.
If you have questions on any part of the Guide please contact one of our team, who will be happy to assist you. We very much look forward to welcoming you to Tattersalls.