Book 4 of Europe's Largest Yearling Sale
November 3, 2017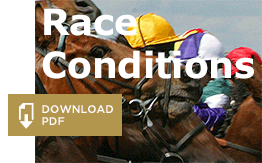 Don't have Acrobat Reader?
Download it FREE from here.
Hellvelyn Colt Tops October Book 4
Book 4 of the October Yearling Sale took place straight after the conclusion of Book 3 and saw 43 lots realise 141,900 guineas with a son of HELLVELYN topping proceedings at 20,000 guineas. The stallion has been in the news this year via his start sprinting two-year-old filly MRS DANVERS and it was trainer Henry Candy who secured him.
At the conclusion of the 2016 Tattersalls October Yearling Sale, Tattersalls Chairman Edmond Mahony commented;
"More than 132 million guineas has been spent on yearlings at the 2016 Tattersalls October Yearling Sale over the past two weeks, which is a record sum for the fifth consecutive year, but more importantly, a huge tribute to our vendors who have brought the cream of the European yearling crop to Tattersalls.
"To have produced record turnover having catalogued almost 300 fewer yearlings than last year is a significant achievement. We were overwhelmed by demand for places in the 2015 October Yearling Sale and we were acutely conscious that the larger numbers were challenging for purchasers and vendors alike. It was important for all concerned to make the sale more manageable and decreasing the numbers has without doubt been the key to maintaining the momentum throughout the fortnight.
"The highlights of Book 1 included the world's highest priced yearling for the fifth consecutive year and an extraordinary 44 yearlings selling for 500,000 guineas or more, but the sustained demand at Book 3 has been equally satisfying. Significant increases in the Book 3 average and median and a new record top price of 200,000 guineas have brought the two weeks of the 2016 Tattersalls October Yearling Sale to a fine conclusion and we are enormously grateful to all those who have contributed to the success of the past two weeks."
Latest Press Releases
Sale Videos